Teen Health and Wellness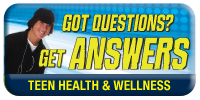 ---
Check Us Out on Facebook!
Facebook page for Young Adults of the Grafton Public Library
---
Let Your Voice Be Heard!
YOUNG ADULT ADVISORY COUNCIL
---
Helpful Links
Try this enlightening and entertaining site for those tough to answer questions.
This site has great links for help in all subjects (also has info on QR codes)
Great site for science fair project information and ideas!
All you need to know about DNA, RNA, cells, protein and cloning.
This is a great resource about how government works.
Check out the government at work. This is a list, with links, of government agencies and programs.
Want to learn more about the legislative branch of our government? Topics covered include the role of the U.S. House of Representatives, the legislative process, and House history. This site is good for all ages/grades.
Want to step inside a Courtroom?
Don't pull your hair out over that math problem...try these helpful sites.
Need inspiration for an english project?
Need information on Copyright? This web site explains the basics of copyright law.
Wondering what to read next? Check out these sites for a great list of book titles and reviews.
---
Teens
The Young Adult (YA) section at the Grafton Public Library serves teens in grades 6-12 and provides an array of materials, activities, and technologies for their educational, informational, and recreational interests.

Check the calendar for programs!
---